Wang Jianhong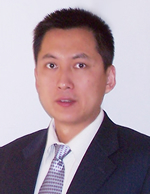 Wang Jianhong (汪见虹) (b. 1963-09-12) Chinese pro, 9 dan in 1996. Also won the 7th World Amateur Go Championship in 1985.
The following is his rank history as given by his

PWD profile.
(The question arises how he was able to compete in the 1985 WAGC despite having apparently been a 6 or 7 dan professional at the time, which for now is left unanswered. His 6 dan and / or 7 dan ranks might have been technically amateur ones; the Perfect Weiqi Database doesn't seem to make a clear distinction.)
4p and 5p 1982
6p 1984
7p 1985
8p 1991
9p 1996
[1] This link now redirects to

http://www.wjhwq.com/, which is some kind of Chinese Go shop.
Books