Tsumego from Games 66
The Life & death problem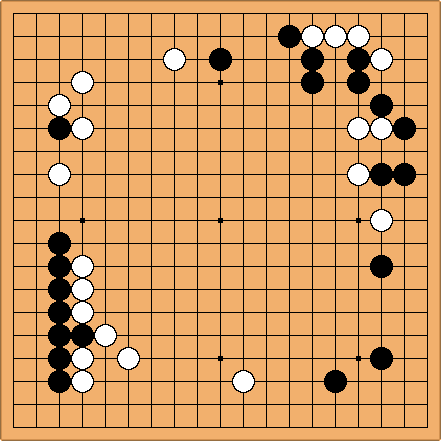 Honinbo final 2006, game 1. It is White to play.
Can the top right be killed if White turns elsewhere?
Can you predict the next White plays?
---
HolIgor: I think black can kill.
---
The next move
HolIgor: If that analysis is right then answering the second part of the problem is far more difficult. Living is about 20 points. It does not seem to be sente. A move around tengen would help other white stones in the top right. The choice is difficult.
Dieter: The life & death analysis was correct. White has to come back and live. However, first he plays a kikashi at

. Now this move interests me a lot, and I like to use it as a discussion object in the ongoing thoughts about forcing moves and kikashi.
Bill: Well, I got it wrong. I would have played the clamp at a. Pretty bad, when you think about it. :-(
Dieter: Here's how I see it (strategically).
White has decided living in the corner is urgent. Doing so will lose the initiative. Before taking gote, she wants to squeeze all she can out of the position.

commits Black to confirming he will kill the corner if White does nothing. Else, Black will ignore this move and White can live big by playing at

. After

,

goes back to live and

has become a disposable stone that produces an outside effect. The work of

is twofold: past work to commit Black to a choice, future work is the influence in central debates.
Now the tactical question: how about other answers for

?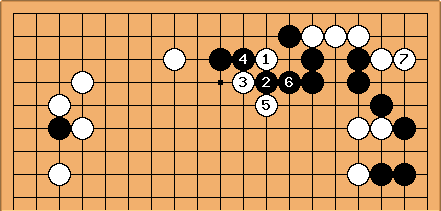 If Black wants to counter the central influence, he'll play

.

and

give even more influence.

is ugly.