The Magic of Go Yomiuri Shimbun / Problem 2 Wrong Solution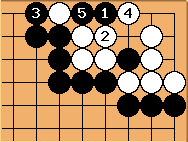 The placement of

aims at White's shortage of liberties. If

protects,

plays atari.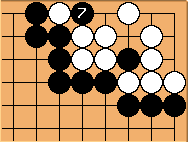 The first problem is that after

the local temperature has dropped to 1 point. Plays

-

come later, if at all. White also has a 1 point gote.
The second problem is that

is probably wrong.
White's correct play depends on what lies to the left of the diagram. By the usual assumptions of yose problems, it is open black territory. In that case,

is wrong.