Takagi Kato invasion clamp and sacrifice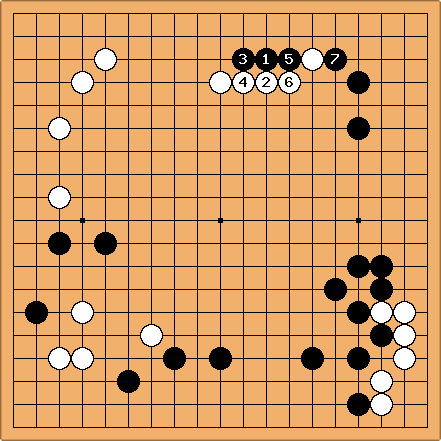 This is Takagi Shoichi (Black) versus Kato Masao in the 43rd Honinbo League played in November 1987. Takagi uses it as the first example in section 2 of Beyond Forcing Moves.
When White plays at

, Black continues at

and

in the knowledge that the clamp at

is available. However, the point of including it in his book is as an example of good forcing moves - by White! The clamp is effective in that White cannot prevent Black from connecting. However, Takagi did not really consider how well White could do by using a sacrifice strategy.
He may not have known that thirteen years earlier (December 1974) Sakata Eio had beaten Kato in the 30th Honinbo League with the same sacrifice in the same corner position. (Thank you GoGoD CD and Kombilo :-)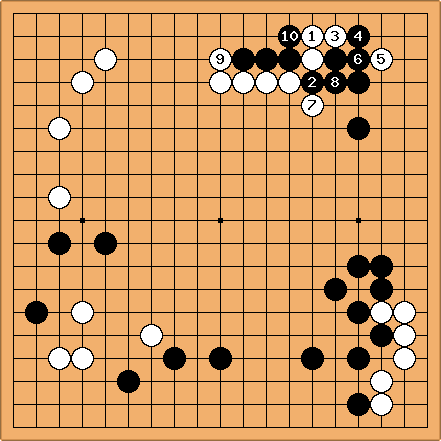 White's turn at

yields a free forcing move in the corner at

before continuing with

and then stopping Black cold with

.
Finally White ends the play in the upper right in sente with

and turns to

to expand the upper left territory now backed up by White's new wall in the upper side.
This example demonstrates the basic clamp which can be a very powerful move. Indeed here it gives Black exactly what he wanted. Unfortunately he had not thought through the implications in this particular position well enough. As a result, the example is also a very good illustration of the resources at White's disposal. Black must have them in mind in choosing this type of clamp.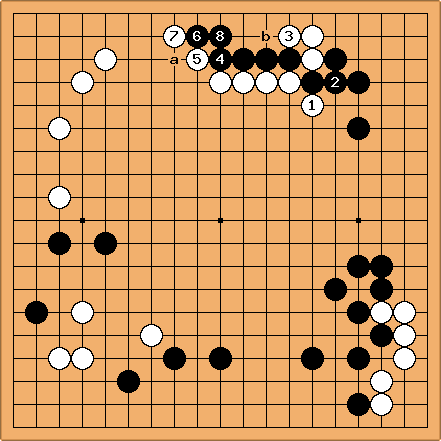 Note that White can not win by turning at

after exchanging

for

.

,

, and

make miai of a and b.
---
LZ analysis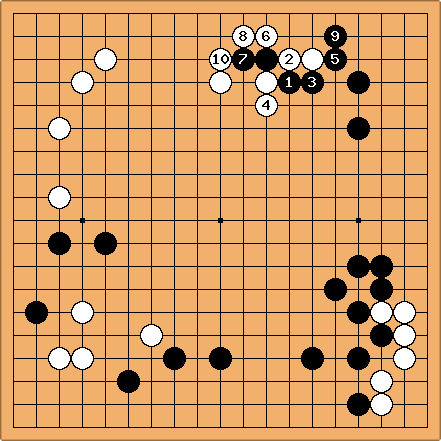 Instead of falling for White's sacrifice, Black could have sacrificed with the unusial hane, taking sente to play at the bottom.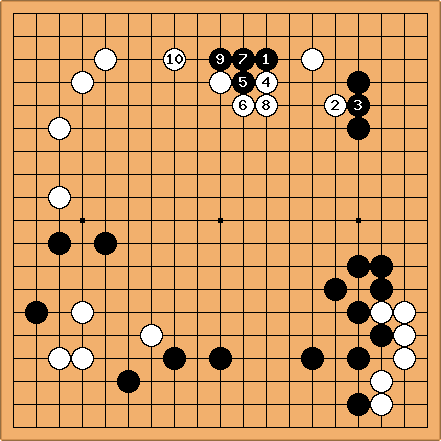 White can fiercely attack Black's invasion by exchanging

for

, then play the wedge variation with atari from above and finally attacking with

. White's strong position at the left allows for this attack.