Small Life
Small life is a term that indicates the player to be forced into living small, as opposed to living with a decent amount of territory and/or weakening the opponent's surrounding structure, usually in gote too.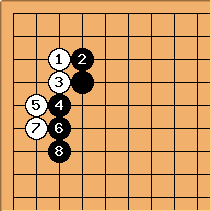 In this modern [1] 3-3 invasion pattern, White adds a stone on the second line with

. If she omitted that ...
[1] bugcat: What's "modern" about

? The modern (or hypermodern) move would be the continuation with a second push, rather than making a hane exchange. Both the "new" and "old" 3-3 variations after

stem from

.
... then Black's turn would force White into small life.