Shunt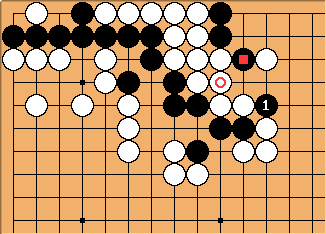 A shunt is this kind of micro-ladder.
It is an elementary tactic, but it may not be so easy to see several moves away.
Here it means 'hitting something that immediately hits something else'. That is,

is atari and hits the white stones into

.
When the position is shown explicitly as above, this is just a one-move reading problem; and shunt applies simply to

. But it could possibly mean a three-move problem like

- White

-

.
Note on English
Shunting is done on the railways when carriages or goods trucks are pushed around by an engine, to sort out rolling stock onto the correct track or create long trains. Also, a shunt can occur when car A hits car B from behind, and then car B hits car C just on momentum.
This term is introduced by Charles in his Teach Yourself Go book.
Problems
See also