Short J Group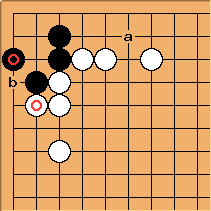 The short J group is actually a tripod group followed by the

-

exchange. It is alive as it stands. A White stone around a makes it unsettled, however. Playing

at b is a wrong and leaves the group unsettled.
It should not be confused with the J group.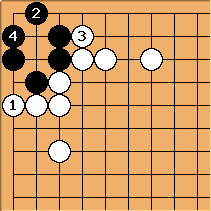 The descent at

is answered by

as well. Black has only 2 points of territory, the best result for White.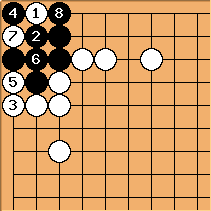 and

is probably the strongest attack, threatening a ko. The throw-in at

is neccessary for life. The result is oshitsubushi.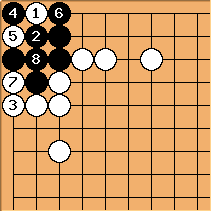 If

captures, then

and

lives by oshitsubushi as well.
If

is as in this diagram (instead on a) as before than white can kill with the eye-stealing tesuji of

, making a placement and aiming at setting up a snapback at b. Black is dead.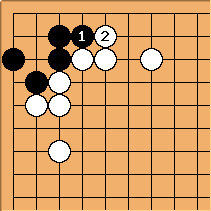 While the short J group is alive black must be careful not to play the

-

exchange and then play tenuki the group now becomes unsettled see Short J group with extra leg for details
An extra white stone on the upper side
Black must also be careful when White has played at

if he does nothing While can kill him with White a
TO ADD what is blacks best defence
If White has a stone at at b white needs to play a (see attempt 1 above)
TO ADD what about White c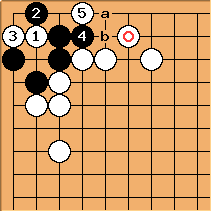 After

,

and

reduce the corner to one eye and although

can be captured (Black a White b it is only a false eye.
---
This page is mostly coming from the page of the tripod group I is because another page the tripod group with extra leg is not really a tripod group at all. It is a short J group (with an extra leg)