Sente Gote
A local position in which play for one side is sente, but for the opponent is gote, is said to be a sente-gote position (or simply sente).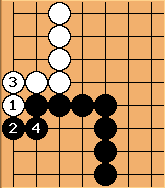 A simple sente-gote position is seen on the left. A play by White would be sente, whereas a play by Black would be gote, since White does not have to protect against the cut. The value of White's sente is three points.
A black play at

would also be worth three points, but in gote. Incidentally, since it is White's sente, Black's play is called Reverse sente.


Q: How many points does playing a sente-gote in sente gain?
A: see Sente Gains Nothing.