Roberts vs Casey
Black: M.Roberts 23kyu
White: J. Casey 15kyu
6.5 Komi

Commented by Klaus, 1kyu
---
Klaus: Let's start here: what are the alternatives for

?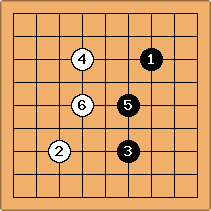 Black can play safe and hope to overcome the komi with beginning the yose. This offers a fair chance for both sides.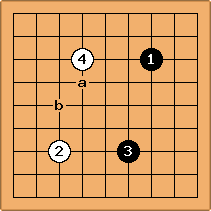 Both players have a mixed, three-space extension, so it is natural to invade at once. a and b are possible invading points.
See Low invasion of mixed three space extension and Attachment invasion of mixed three space extension for reference. Of course things are a little different here . . .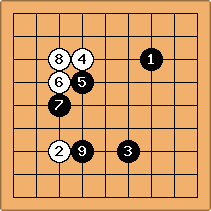 I have no clue what is going on here. Let's call it a fight. My sequence might be completely off the mark. Black is trying to persuade White to capture stones, using too many moves . . .
---
So what about the game continuation?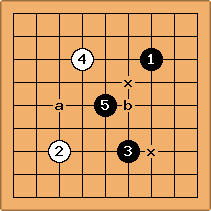 threatens a splitting attack at a, but compared to a move at b it leaves two weaknesses at x. Black seems to have a shape problem:
I would generally prefer the set of shapes 1 b) and 2 b) over 1 a) and 2 a)
---
Having said all that, how should White answer

?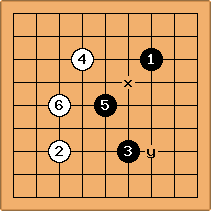 I think, he can simply answer at

, seeing

as a thank you move: white is safe from any invasion now, whereas Black still has two weak spots at x and y.
---
Next moves at Roberts vs Casey 6-13