Preventing the bamboo joint
Abstract form

In its abstract form, the technique is about

preventing a Black bamboo joint. The technique is illustrated in the following diagrams:
The technique in action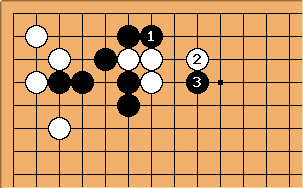 compromises the bamboo joint and is a tesuji.
I guess that technically this fits the description, but I see it more as an eye-stealing tesuji.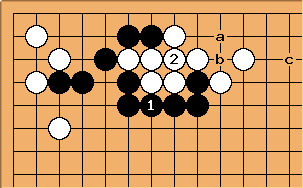 After

, a possible sequence is Black a, White b, Black c, attacking the entire White group.
Hyperpape: What does this peep actually achieve? I don't have kombilo with me, but I didn't find it on a quick joseki search in SmartGo.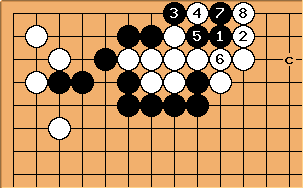 Uberdude: If you block the peep to the right with 2 then black can push on top and you can't block at a without losing the dango due to cutting being an atari. So white will have to make some submissive answer and black increased his centre thickness in sente.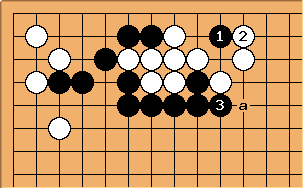 As a cutting technique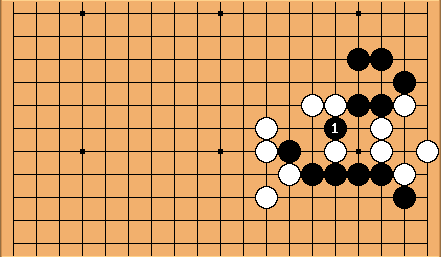 From Rescue and Capture by Yang Yilun. The move

captures at least five white stones, killing the white group at the edge. In this case the move is also a warikomi.
---
Naming
James Davies calls this the Slapping Tesuji. There is also a well-known proverb that says "grab the fourth point of a bamboo joint". This tesuji is also often a clamping tesuji as well, as it can be particularly devastating in conjunction with a stone at the circled point, aiming at the wedge of a.
See also