Non-Joseki Exercise 3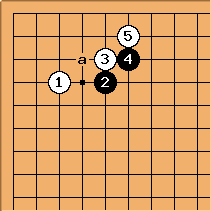 Still on the 3-4 point high approach inside contact joseki, but White 5 played hane on the second line instead of a. How should Black play?
This exercise should be easier than Non-Joseki Exercise 1, but when I posed this question to someone in my club who is 16 or 17 kyu on KGS, he gave a wrong solution that is interesting enough to be mentioned here.