Non-Joseki Exercise 3 / Solution
Wrong solution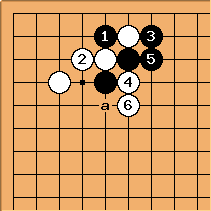 The wrong answer posed by the KGS 16 or 17 kyu is to capture one stone at 1 and 3. However after White 4 and 6 (or a) it should be obvious that the loss of one White stone is more than compensated by the influence outside. This wrong solution is interesting in the sense that it is a common kind of mistake committed by players whose strength is around that level, one that only sees the immediate capture of one or more worthless stones without thinking further the consequences.
---
Correct solution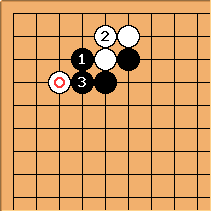 The atari at 1 and the connect at 3 is very natural and breaks the White group into two. With the marked stone suffering damage, White is definitely no better than the solution in Non-Joseki Exercise 1. Nothing too difficult, ya? This is something similar to squeezing out the toothpaste.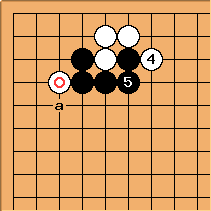 A suitable continuation would be White 4 and Black 5. Depending on the whole board situation, Black 5 may consider playing at a to secure the corner. White's position is generally low and Black gains sizable influence outside.