Nihon Ki-in Dan Level
Nihon Ki-In Dan Level series is a set of fourteen books of problems for 1 dan, 3 dan, 6 dan and 7 dan amateurs. Each level includes a set of three books, one each on joseki, life and death and tesuji. The 7 dan level contains two additional volumes on fuseki and middle game problems. Each book contains 150 problems and relatively little Japanese text making the books excellent study tools regardless of whether or not one can read Japanese.
Available from Kiseido and

Amazon Japan.
Nihon Kiin

webpage for these books. Scroll down or use the browser to search for "囲碁文庫-三段合格シリーズ-初段から三段向け"
Familiarity with intermediate japanese for reading Go books is useful when using these books.
The material in these Japanese books is being translated into English in the new Kiseido series Graded Go Problems for Dan Players.
1-dan Life and Death (初段合格の死活150題)
ISBN13: 978-4-8182-0498-0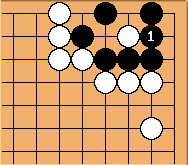 1-dan Tesuji (初段合格の手筋150題)
ISBN13: 978-4-8182-0500-0
Four sections: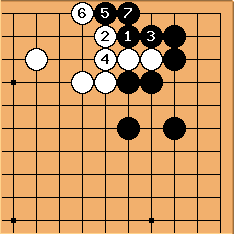 Fourth section covers endgame tesuji.
1-dan Joseki (初段合格の定石150題)
ISBN13: 978-4-8182-0499-7
3-dan Life and Death (三段合格の死活150題)
ISBN13: 978-4-8182-0502-4
3-dan Tesuji (三段合格の手筋150題)
ISBN13: 978-4-8182-0504-8
3-dan Joseki (三段合格の定石150題)
ISBN13: 978-4-8182-0503-1
6-dan Life and Death (六段合格の死活150題)
ISBN13: 978-4-8182-0507-9
6-dan Tesuji (六段合格の手筋150題)
ISBN13: 978-4-8182-0509-3
6-dan Joseki (六段合格の定石150題)
ISBN13: 978-4-8182-0508-6
7-dan Life and Death (七段合格の死活150題)
ISBN13: 978-4-8182-0560-4
7-dan Tesuji (七段合格の手筋150題)
ISBN13: 978-4-8182-0563-5
7-dan Joseki (七段合格の定石150題)
ISBN13: 978-4-8182-0570-3
7-dan Fuseki (七段合格の布石感覚)
ISBN13: 978-4-8182-0561-1
7-dan Middle Game (七段合格の中盤戦)
ISBN13: 978-4-8182-0565-9