ArnoHollosi: in the New Year's Rengo 2002 Black changed tactics with move 103. I try to point out, what a decisive center fight might have looked like.
PS: I overlooked the other page NYR 2002 - alternative 103 when I created this one :o(
The position after White 102 was as follows: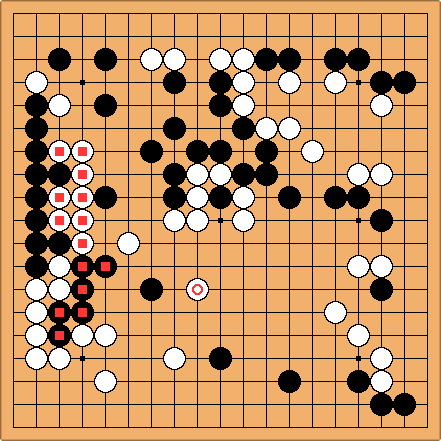 White just played the marked stone to stop Black from escaping. The question arises, whether the white marked group survives a fight with the black marked group. As Black cannot escape, a semeai will result.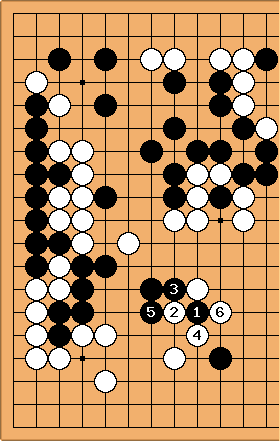 Black starts off with 1. White immediately cuts Black with 2. Note that White has to play very toughly, as the center territory is her main territory. If she backs off too much, Black will win the game.
There are alternatives to White 4, but White 6 makes a beautiful ponnuki, so White is doing OK. Black is fully aware that this line of play hurts his lower side.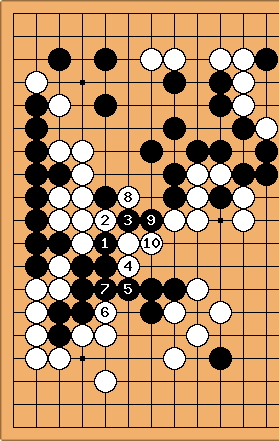 Black cuts with 1. White 4 is severe and aims at reducing Black's liberties as fast as possible. Now 5-7 are forced. Next White plays 8 as to protect her two stones around White 4 while also reducing Black's liberties with 2 in the next diagram.
The problem here is the exchange of 6 for 7. White should not play this. See below. --Dave Sigaty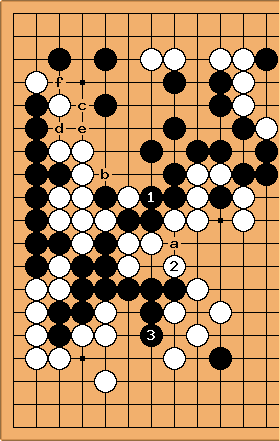 After Black defends with 1, White plays 2, not only defending the cut at a, but also reducing Black's liberties. However, after Black plays 3, the black group has five liberties, whereas White has only four liberties.
Even if White captures at b next, it doesn't look as if she is going to win. Also, note that the exchange c through f doesn't gain White any liberties.
---
I did some further analysis, and it is a tough fight. But it looks like Black has a realistic chance. But maybe I'm all wrong and overlooked the obvious move? --Arno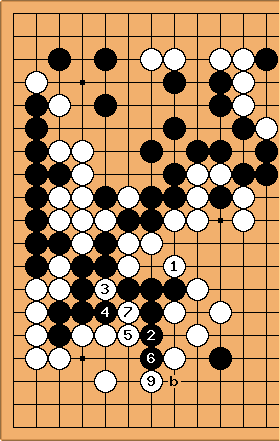 DaveSigaty: At this point White simply plays White 1 without exchanging White 4 for Black 3. If next Black plays Black 2 to extend his liberties, White throws in at White 3 then plays White 5. Black can not get more than three liberties here.
However, this is katteyomi. Black will not cooperate. Instead of connecting at 8, Black will play Black 9. If White captures, Black will turn at b making a large bottom territory after reducing White's center. If White plays b herself, Black connects and has five liberties left. Therefore White cannot play White 7 but must hane at 9 immediately. Black has two extra liberties (by not connecting yet): can he use that to make trouble on the outside?
---
DJ: Before seeing Arno's proposal, I had thought of a slightly different line of play, forgetting about the ponnuki: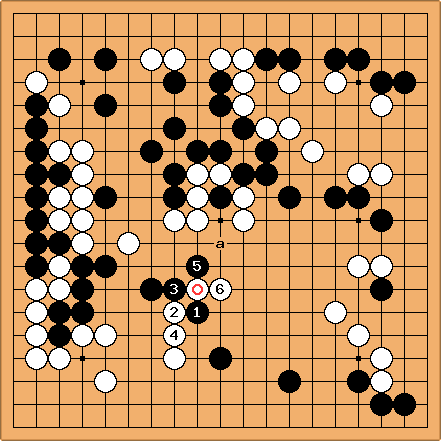 And now? Black has fewer liberties but has a forcing move at a. I've tried various sequences, where Black can try to escape to the right by attacking the white group above a, but it seems to me that White can always cope, at least by capturing Black's big tail...
Moreover, in this sequence Black's group on the lower side is much thinner ...
It sure is a difficult fight.