NYR 2002 Alternative 103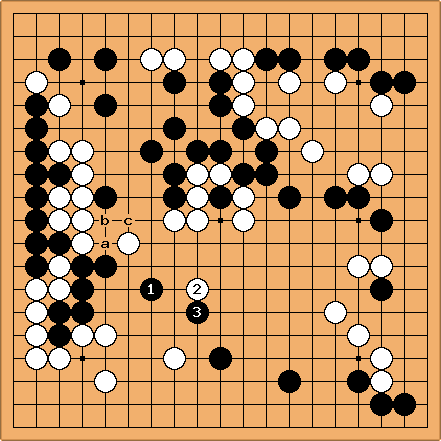 DaveSigaty: I think that the threat to push through and cut with Black a, White b, Black c makes the position still interesting for Black. It does not work yet but if Black can extend the liberties of the center stones, the threat comes alive. It seems like Black should be able to use this threat to reduce the center. How should White save the day here?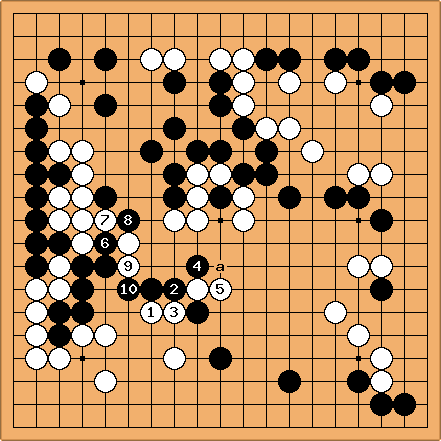 I think White 1 is the key point to keep the pressure on Black. --Dieter
---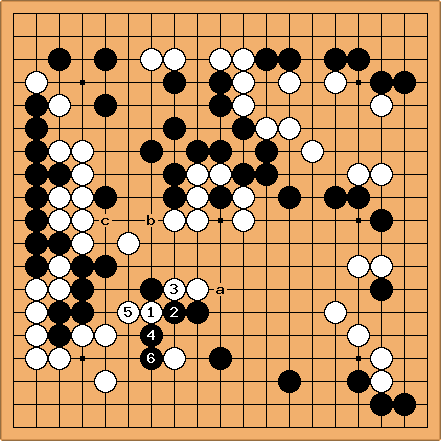 DaveSigaty: How about this 2 instead? Black does not have actually to escape with his stones. The threat to escape and the threat to cut limit White's possibilities, no? If White intercepts with 3 is 4,6 better than in the game? Should 4 or 6 be at a instead?
Arno: I agree with David. I think that this sequence is good enough for Black. If you do some counting, you will see that White cannot be too happy about the position after Black 6 (Black can still further reduce White's center with b and c.
dnerra: Well, but why doesn't White prevent this in the first place as below?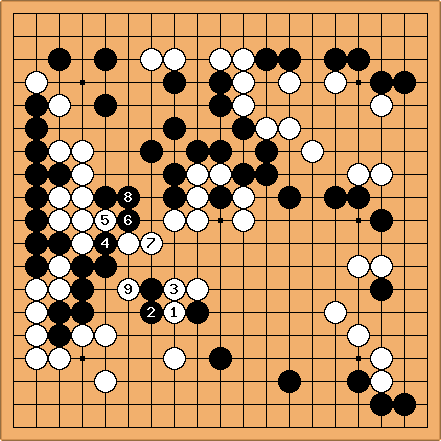 dnerra: If Black plays 2 at 3, then White plays 2 and we reverted to the diagram that was so successful for White. And if Black prevents this with Black 2, then he cannot cut, as he loses by one liberty.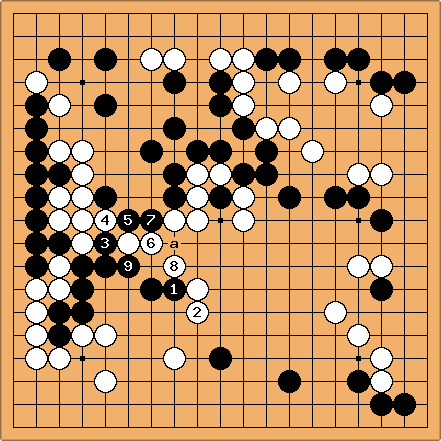 dnerra: How about this very blunt move? The idea is to gain liberties and prevent the white tactics in the diagram that I labeled "Cut fails". It is at least encouraging that the natural answer by White does not seem to work. (At White 8, she needs to protect against the cut at a.)
At the end of this diagram, Black has five liberties, while White has four.
Of course, more variations need to be explored.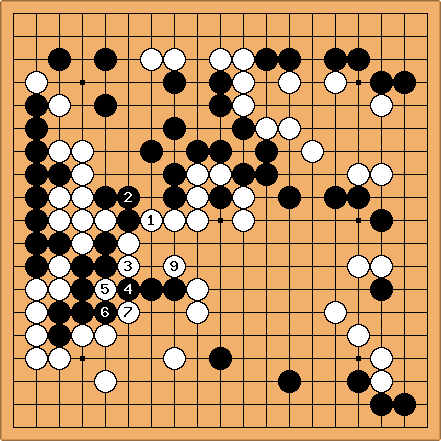 White 6 above looks slack. What if we move it to White 1 here? It looks like White 9 holds everything. DaveSigaty
---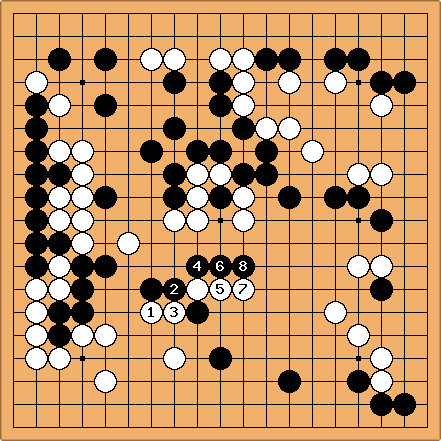 I think we have to go back to Dieter's original line. After White 5, Black is not yet able to cut. What if he continues at 6? Black needs to be content with erasing White's center if that is the way it works out. If White 7, Black 8. DaveSigaty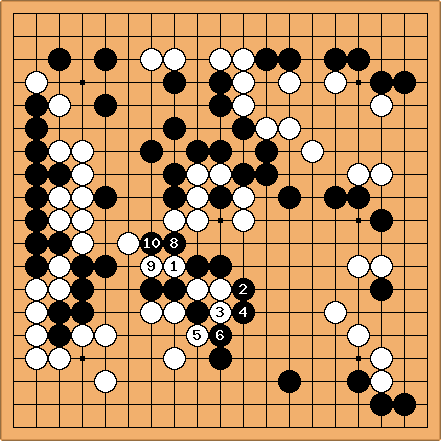 If White immediately prevents the connection instead of extending, Black plays all the forcing moves...