Named points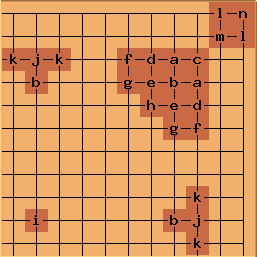 This page lists the commonly-played points on the go board which have their own names. For names in other languages and more details, visit each page.
Many names for points in the corner apply only when referring to an initial move. That holds for komoku (3-4, a) and hoshi (4-4, b), both of which are terms commonly used in English, although they could be referred to by their coordinates as well.
It also applies to the 5-3 point (mokuhazushi, d); the 5-4 point (takamoku, e); the 6-3 point (oo-mokuhazushi, f); the 6-4 point (oo-takamoku, g); and the 5-5 point (go-no-go, h), which are more commonly referred to in English by their coordinates.
Points whose names are not limited to an initial move include sansan (3-3, c), referred to in English using either the Japanese term or the coordinates, used to designate the location of a common corner invasion. Another is tengen (10-10, i), where the Japanese term has now become English.
Strange things happen at the 1-2 point (l) as they say; there's no need to use the Japanese here, since it also just uses the coordinates: ni-no-ichi. 2-2 (ni-no-ni) (m) and 1-1 (ichi-no-ichi) (n) points are similar.
Infrequently used names include hoshi-shita (j), the third-line points directly under the side star points, and hoshi-waki (k), the points to either side of hoshi-shita.
List
See Also: Board geography