North American Go Federation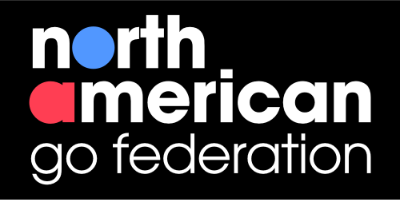 Description from

their website:
The North American Go Federation was founded on July 17, 2020 from two founding member associations: the American Go Association, and the Canadian Go Association.

The mandates of the NAGF are as follows:

To represent the Go community of North America in international contexts
To establish and maintain professional promotion and ranking systems
To organize pro qualification events
To organize North American Championships
To support Go promotional activities in North America

The official headquarters of the NAGF are located in The National Go Center: 4652 Wisconsin Avenue NW, Washington DC, USA.

For any inquiries, please send an email to <contact@nagofed.org>.
The North American Go Federation (NAGF) is not to be confused with the American Go Foundation (AGF), another organisation associated with the American Go Association (AGA), nor with the defunct American Professional Go Association.
The online branch is the North American Online League
As of June 2022, the NAGF is chaired by former AGA President Andy Okun, with Hajin Lee as executive director. The other directors are Michael Redmond, Thomas Hsiang, Ryan Li, James Sedgwick, AGA President Gurujeet Khalsa, CGA vice president Nicholas Prince, and Francois Gourdeau.