Kill Yourself In Sente
A move like the one depicted here is one you won't forget for a long time. Such a situation often can only be resolved with a nuclear tesuji.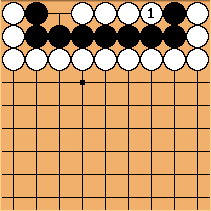 Any seki can be used to kill yourself in sente, as the diagram and the discussion below illustrate.
nachtrabe: How about this?
Tas: Thats a good one. He's actually threatening to gain more than he had, and there is no second stupid move to ruin it. Unless tenuki he will carry out the threat
dalf?: The example is nice, it shows that in such cases, as a last resort, suicide in sente can still be an effective ko threat. Of course you better make sure you win the ko, and the winning the ko is bigger than your loss. The condition is "suicide in sente" is also a threat, like on the example. Hmm... now I wonder if a fate worst than KillYourselfInGote won't be "kill yourself in sente during a ko fight but still lose the ko in gote".
aceofspades: dalf, I do believe one could add could "fate worse than x" items ad nauseam, until one reached what is possibly the truly worst possible fate: losing the game. After, all the bad 'fates' mentioned are merely bad because they contribute toward losing the game.