Ja-Choong-Soo
Ja-Choong-Soo (자충수 Revised Romanization: Ja-Chung-Su, McCune-Reischauer: Cha-Ch'ung-Su) is a Korean go term. It literally means "self filling up move", which we can polish as "a move that reduces one's own liberties".
See Minue's HaengMa Tutorial For Beginners for a definition at length.
Basic Example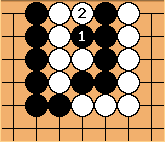 Example from

this baduk site

is a really stupid ja-choong-soo (except maybe as a losing ko threat), because it destroys the seki.
Example from Minue's explanation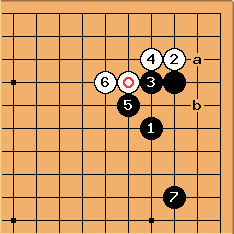 The beginning of the discussion starts with this joseki mistake. Typically, after

, black will hane at a, white extends with

, and black will play at b to make good shape. However in this example, black makes a mistake and plays

. This is an example of ja-choong-soo, a self filling up move.
The point is that one expects a net growth of liberties for each move:
The black 3-4 stone has 3 liberties after the attachment. The two black stone group has three liberties after

. Literally, there is no reduction in liberties. However, if we consider that a simple iron pillar increases liberties from 4 to 6 with the addition of the second stone, we can see that the second stone in the example mistake is a net decrease in liberties comparitively.
---