Ishidate
Ishidate ( 石立て ) is an old Japanese go term literally meaning setting up stones or the setup of the stones.
Bill: I think that it is a synonym for fuseki, but there may be nuances. Another synonym: Ishi no kamae ( 構え )?
Bob McGuigan: I wouldn't call it a synonym for fuseki, but setup seems OK, as does kamae as a synonym. Kamae also has the sense of structure, which seems appropriate in this case. If the word "framework" weren't already taken as a translation of moyou I might want to use framework for kamae.
Example: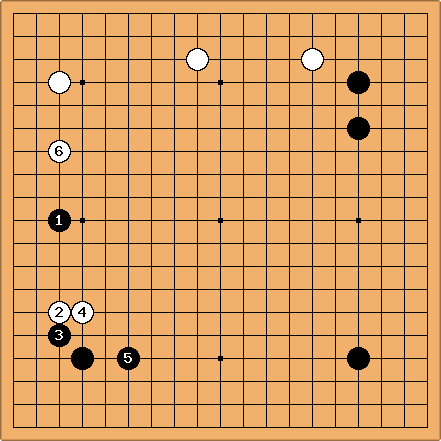 This example comes from

http://www2.tokai.or.jp/tuta/nisikyoku.html . The commentary states:
ここで白2とカカリ、黒3、5と常用の攻めに出たとき、白6とハサみ返すのが秀栄流の石立てです。
Here when White plays the kakari at

and Black plays the everyday attack of

-

, playing the counter pincer at

is Shuei style ishidate.


Bill: Does ishidate refer just to , or to - ?
JohnFairbairn discusses this term

here, commenting (heavily abbreviated):
"The word ishidate (Jowa's) for fuseki means 'establishment of groups'. (...) The term fuseki (lit. spreading out of stones) could be seen as more descriptive of how to achieve (Shuei's) new opening style. (...) By Taisho times - the following decade - the term fuseki took over and by Showa times (1926) it had ousted its rival."