Ishida Volume 1
Volume 1 of the Dictionary of Basic Joseki covers part of the komoku (3-4 point)
...From the past this has been the most popular move for occupying the corner, yet while it is the most secure territorially, it also has the most variations. In quantity they are equal to the variations for the other points combined. This point also allows the widest range of approach moves and enclosing moves... (from the Foreword)
The three replies included in volume 1 are: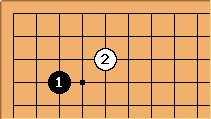 The small knight move 2 is the basic approach move to the 3-4 point stone. It has been in continuous use for over four centuries, according to reliable records, and has been regarded as the most effective approach move. It continues to be just as highly evaluated. However, the variations are limitless and new moves are constantly being discovered. This move is truly a treasure-house of joseki.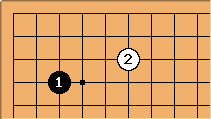 This move 2 is not played on its own but when there are friendly forces backing it up. Its purpose is to prevent the opponent from playing a pincer. From the point of view of just the corner, this move accepts a loss, as it does not have much effect on the opponent's 3-4 stone and does not take much territory. However, it can be valid as part of a fuseki strategy. It was popular in the late 1950's and early 1960's but is not seen so much nowadays, having been replaced by the one-space high approach, with which it has points in common. This last comment is out of date as the large knight approach has made a strong come back recently particularly as a counter to the Kobayashi Fuseki.

The two-space high approach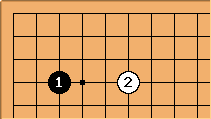 2 is a light move. White is not concerned about corner influence but is satisfied if he can get Black to answer here, as this means preventing Black from making a corner enclosure, while keeping sente. From Black's point of view, there is nothing wrong with replying as White wants, while he can also try to make White answer him. This approach move was very popular in the 1910's and almost all the variations have been completely explored.
---
Game database references. Errata.
See also Joseki Dictionary Coverage Depth
Reviews
to be added
Table of Contents
to be added
Sample Material
to be added