Influence Go
One of the Go variants
I didn't know what else to call this. I haven't tried it yet, but my idea was to create a variant to practice using thickness and influence. It's just normal Go, but with the initial setup shown below.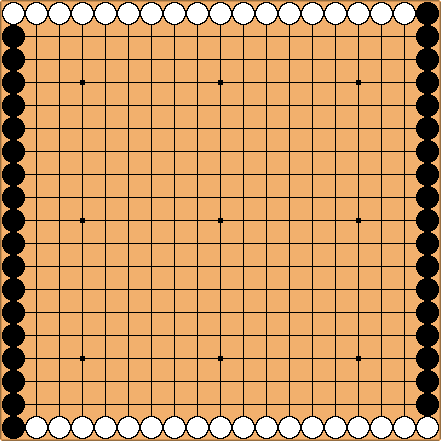 I suspect that the best opening move is probably at tengen, after which some interesting fighting should break out as both players try to claim some territory and connect to their sides. I play mostly on the Internet, so the odds are against me getting a chance to try this soon. If anyone else does, please edit this page and let us know how it turned out.
-- Alex Weldon
Hu: This would be very easy to play on KGS, Alex. Open a teaching game, use the Edit tool to place stones in the above pattern, or any other such as the old Tibetan Go starting position, click "Resume Play" and continue.
---
HolIgor: There is one important question about the rules of the game. Can the stones at the first line be killed? I think that the game of go is good as it is, so I am not going to play, but the strategy of the game will be different if the players could use the option to threaten the groups at the edges. Not that they are likely to be killed, yet a threat could mean a tempo here or there.
Sebastian: I took this to be just a normal game, except that we agreed to do the first 18x4 moves in a special pattern. So they should be mortal.
---
Anonymous: What other interesting starting patterns are there? Since this is an experimental game, how about 9x9 or 13x13, so the game is finished faster. How about a cross in the middle?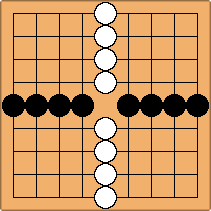 uxs: This last position with the cross looks very unfair for white.
JoB: I would remove tengen in the cross (so that it cannot be played). This should make the game more fair.
This should be in 13 by 13.