Hitting-under tesuji
A endgame tesuji (Endgame Tesuji 1) used as an alternative to the second-line diagonal move.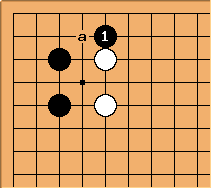 is the hitting-under tesuji, often an improvement over the diagonal move of a.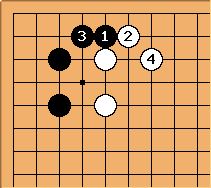 If

, Black draws back with

. This will be two or more points better for Black, and assuming

defends, is also sente, just like the diagonal move.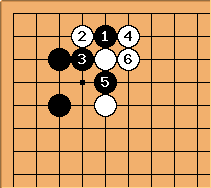 If White counters with the hane inside of

,

cuts,

must give atari, then

pushes in to what was White's territory--not a good trade for White. However, depending on the position

could succeed, and reading it out is a prerequisite for playing this move.