Endgame Tesuji 1
Any skilful play in the endgame deserves to be called tesuji. Most endgame tesujis take sente rather than ending in gote and/or gain more points locally than a more obvious move.
---
Example 1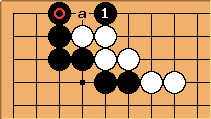 Here Black makes use of

to jump further into White's territory; now White cannot answer at a. Black might miss this chance by playing

at a.