Cross-cut example 1
--Stefan: The first exercise in what hopefully becomes a series of pro game examples of cross-cuts and how to best handle them from a global board point of view.

The problem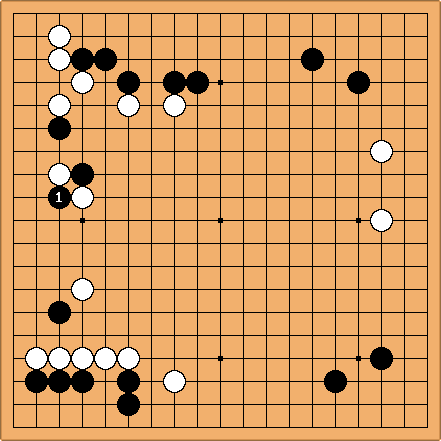 This game was played on February 16, 2001 in Seoul. Black was Pak Chi-eun 3 dan, and White Rui Naiwei 9 dan. Pak has just played the cross cut at 1 to try and make sabaki in this area dominated by White.
---
WTD:
---
I'm not sure about the event, but Jan van der Steen's says this was the second round of the Funchan. (Never heard of that tournament - does it make sense?)
SAS:
This game was the third (and final) game of the 2nd Hung Chang title match. (The Hung Chang Cup was effectively the women's world championship.) "Funchan" is just a wacky spelling of "Hung Chang" caused by relying on the Japanese pronunciation. Another spelling sometimes used is "Heung-ch'ang".
SGF files of the games in this title match can be downloaded from

http://www.msoworld.com/mindzine/news/orient/go/sgf/int_sgf.html
Stefan: Thanks for the info and the correction, SAS. And for the timely reminder to finally make up my mind on this one... :-)
---
The thinking
Let's start by taking a good look at the board from White's point of view. White has a stronghold on the left: the moyo that Black starts to work. Her upper left is stable, but Black has some moves in reserve against it and will try to use them in settling. The white splitting move on the right is stable in miai. To my taste the situation is not entirely miai, as with Black I would prefer to come in from the top. I feel this provides better scope for expanding a moyo, but that may be a matter of style (or an absence of go insight :-)
If this were my game, my strategic objective would be to keep that potential black moyo in check. In order to do that, coming away with sente is good enough, but of course I'd want to help Black as little as possible at this stage.
(Note: Please, no comments on the strategic ideas yet. I first want to flesh out the sequences on my own. When I'm done, you can trash this line of thought to your heart's content.)
The game