Beginner Game Sample 3 Part 2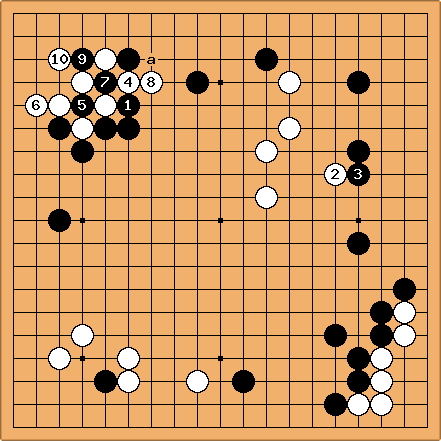 : Andre Engels: Good.

: AE (Andre Engels): Bad. This exchange helps black a lot more than it does white, a typical case of a thank you move.

: unkx80: Normally this is played at

instead, to be consistent with

.

: AE: Bad. White must connect the ko at

.

: AE: This is an overplay, but neither player handles the follow-up correctly. Black should have simply connected instead of playing

. White probably has to defend the corner, after which black can play a, turning

into an outright loss. White should have taken the ko instead of

, black does not seem to have ko threats (and even if he had, forcing him to use one of them would have been a good idea).
---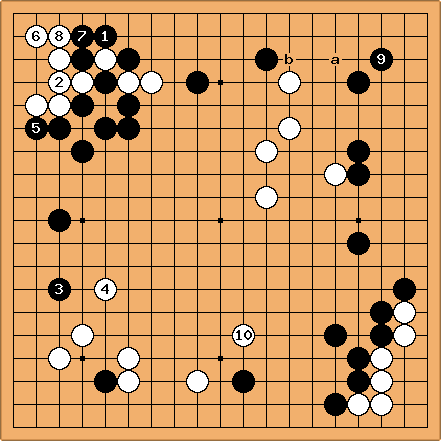 : AE: This corner is an enormous success for black now.

: AE: Good.

: AE: If played at

instead, white is probably dead.

: AE: Too shy. Black a probably secures the corner as well, and also has an enormous follow-up at b.
Orcun: I was still trying to make b a bigger move for black and make it less effective for white since even if white cuts, two black groups are large. I guess a would make white to play b immediately. But I have to agree that a would be a better move against a stronger opponent.
---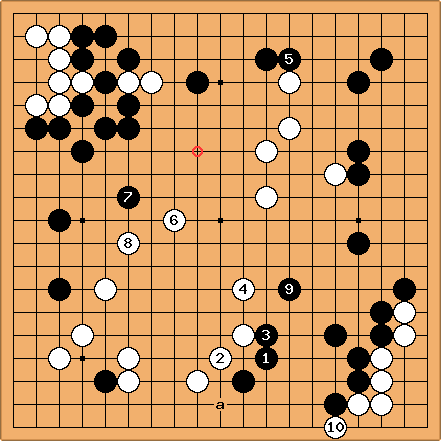 : AE: Probably better at 2 and fight.

: AE: Big!!!!!!!!!!!!!!!!!!!!!!!!!!!!!!!!!!!!!

: AE: Rather vague.

: AE: Too small, black should either reduce deeper (for example at 8), or leave the whole position and play elsewhere.
Orcun: I was planning to play

at the circled point but again I forgot my plan, but White remembered with

in the following diagram which made both

and

small. I seem to play conservative when I think I am in a good position.

: AE: Also too small, endgame. And there are bigger endgame points in this position, like a.
Orcun: I cannot see why a is a big endgame move. I know I should have played it since it keeps sente but does that make more than 4 points? Still,

was a big big mistake.
unkx80: The effect is cumulative. 4 points here, another 4 points there, yet another 4 points somewhere else, then another 4 points there, and add another 4 points say at the corner. There you go, a 20 point difference, definitely significant enough to show a difference in strength. =)

: AE: Being much behind, white has to find something else than this.
---