Beginner Exercise 49 / Solution
The solution is to capture at

.
If White tries to escape with

, then Black

makes two eyes and lives.
White cannot play inside anymore and Black is alive.
---
Even with an additional stone helping White to connect, Black lives.
---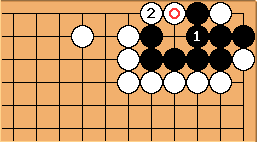 The connection at

is a failure, because after

, Black has only one eye.
Directly preventing the

stone from connecting is also a mistake. After

, Black dies with a farmer's hat big eye dead shape.
If

here,

sets up a ko which Black must win in order to live. Since Black can live unconditionally, this is not the best result.
satyreyes: It does not help black to threaten with

. Quite the contrary; after

and

black is left with a pyramid four in gote and dies.
---
---