BQM 569 / preferedconnection
Describe BQM569/preferedconnection here.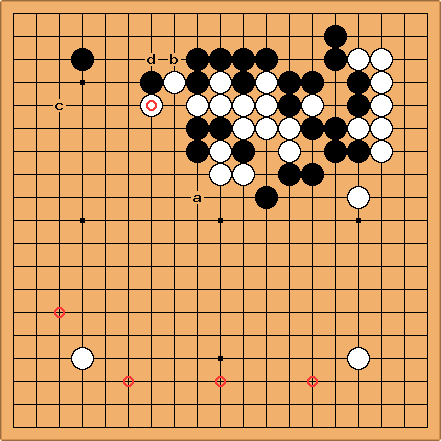 ThorAvaTahr: I prefer 'd' as 'b' leaves some aji that could help white's shape and development if necessary.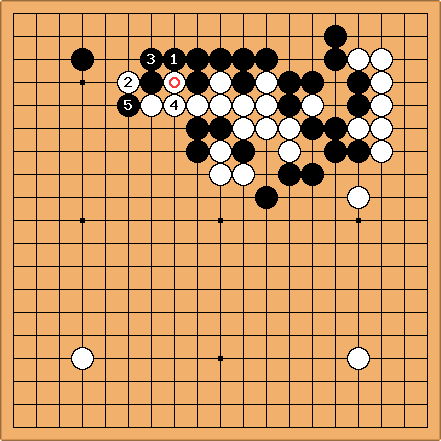 Tapir: I have a tendency towards slack moves, but this isn't one such case. This looks pretty comparable to your above diagram (if anything it is worse for Black than the original). I would say not only is

far from being a something to be concerned about but ends up in a bad spot. So this really isn't a potential I would be concerned about. Or to change the move order - just leaving out the captures (1 each) for the same net result:
---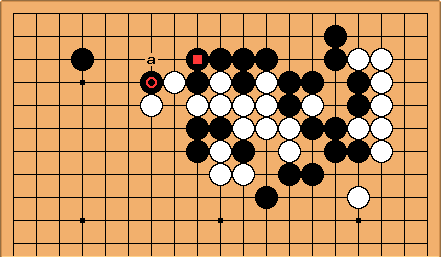 If you look at it again with the question which stone needs strengthening, if you are going to connect at all, then it is pretty obvious

is the one, not

, so a is the move to make. It also adds more strength to the lone corner stone, instead of adding a stone to a hyper-alive chain.
Good point ThorAvatahr. Dieter
Tapir: Sure you can make the case (I am convinced now) that Gote 1 is better than Gote 2, but not by referring to Gote 3 (where

is badly placed) but by referring to Black follow up at f (in Gote 1) and 1-2-3 principle.
ThorAvaTahr: the follow up at f is indeed an important argument in favor of this connection. I still feel strongly for white's line of play in your example "Gote 3", as i believe that one of the moves of

or

is in excess, while

has good aji. This remains only true if it is too slow for black to spend two moves to take the ko and capture again, which seems to be the case in this position.