Atari Inc.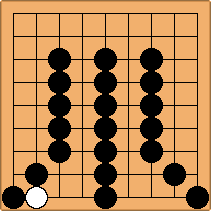 An

American electronic entertainment company founded in 1972 by Nolan Bushnell. It produced PONG, one of the first coin operated computer games. Until 1983 Atari led the home gaming industry in its first golden age but suddenly the market only had room for Nintendo. Atari was sold a couple of times and all that remains today is the name and the logo, owned by the french company

Infogrames.
Nolan Bushnell is a Go player (see

picture and interview) and the company name is based on the Go term. Nolan and his partner Ted Dabney first wanted the name Syzygy but a roofing company already had the rights to that name. They had to go back to their drawing table again, namely the goban. "Their best brainstorming always occurred over a good game and a bottle of beer." (I/O - The Magazine of the Atari Home Computer Club) So they wrote some Go-terms down and sent in the papers. Their first choice was Sente, then Atari and third came Hane.
(Lesser known (and very geeky) fact: Atari had an imprint for publishing on the home consoles of the 80s and early 90s, called Tengen, also after a Go term. -- AndrewWalkingshaw )
---
Go Software for Atari computers
Liberty -- Go editor for the Atari-ST
See also
Wikipedia's

Atari page
---
Jan: The Atari logo above is a stylized depiction of Mount Fuji, by the way! (I found this fact in 'High Score!', a book on the history of computer games)
Jonatan Lindstrom: Nope, although the logo is often referred to as the "Fuji" it's nothing else than a stylised "A". Personally I think it kind of looks like an atari, triangular and all, but I recall reading that the artist just wanted to catch a sense of forward movement.
---
Author: * Jonatan Lindstrom