4-4 Point 3-3 Invasion, Small Knight, Attach
Return to parent joseki article: 4-4 point 3-3 invasion, jumping away
The 4-4 Point 3-3 Invasion, Small Knight, Attach is a move that threatens the flying knife joseki. It is normally only played when the invader possesses the ladder.
Quick Navigation
Moves are listed by frequency in professional games[1], which is sensitive to whole-board position. Bolded moves are commonly considered joseki.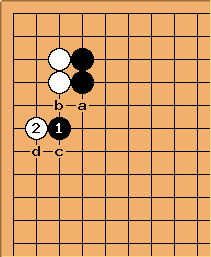 After

, black can try any of a-d. Black a leads to the variations at 44Point33InvasionExtension, whereas b reverts to the "hane-stretch" variations at 44Point33InvasionJoseki.
Black c leads to this variation, in which black loses sente. However, black can sometimes tenuki after

.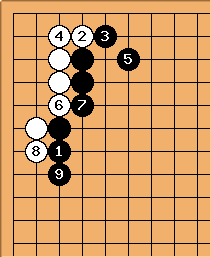 In pre-AI games (2016 and earlier), white would often play hane and connect with

before pushing down the side. Black can sometimes tenuki after

.
---
Fighting variations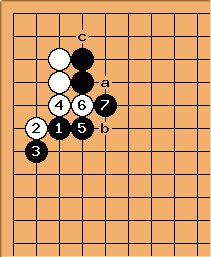 More often,

is played as hane, starting a fight. After

, white will usually cut at a or b, although c is also seen occasionally.
Inside cut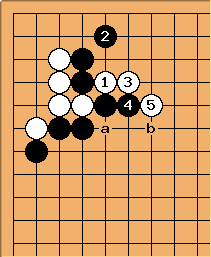 This

relies on a ladder -- but for parallel fuseki, the ladder will normally be in white's favour.

is a key point of this shape. After

, black can continue at a or b, and a complicated fight will follow.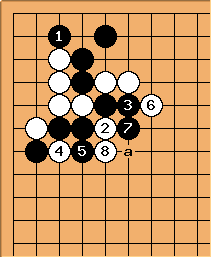 If white's ladder at a is broken, then white collapses. Instead of cutting at

, white has to give way by playing

.
Outside cut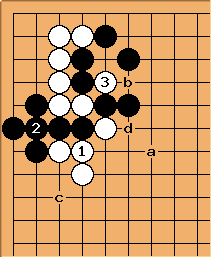 Black can continue the fight with any of a through d
Getting Cold Feet: Attach-Pullback
Instead of fighting with

at

, white can try this more peaceful continuation. After

, Black will try to hem White in in the corner, but White can still decide to fight by playing

here instead of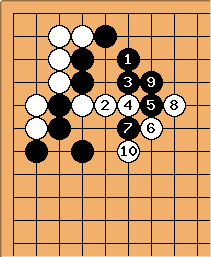 This diagram shows one possible continuation.
Chris Hayashida: There looks like there's a problem with the continuation. Black will just extend from

and capture three stones. Is Black supposed to play an atari first?
Discussion
See also
References
[1] Frequency statistics were obtained from Waltheri's Go Pattern Search using the full database restrained to a local search (accessed July 2022).