44Point33InvasionJosekiHaneInsideCut/WithoutLadder
But Black can sacrifice the

stones, can't he ? Fairly complicated ...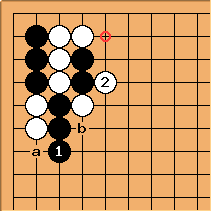 Interesting variation, Dieter. I think that if the ladder works for White, this is good enough for her.
If Black is going to sacrifice the stones, he'd better not play at the marked point, because this stone is going to be worthless once White has captured. It would be better to play at

here immediately; or perhaps Black a- White b -

-

. Still the result seems good for White.