3-4 point with parallel 3-3 point / statistics
Moved from 3-4 point with parallel 3-3 point.
---
DaveSigaty: The current GoGoD CD (May 2002) has 70 games that begin with the komoku plus sansan combination. The first appearance was in 1948 when Go Seigen played it against Hashimoto Utaro. It was played frequently by Sakata Eio but Fujisawa Shuko, Kitani, Takagawa also used it in the 1960s. It continued to appear in the 70's and 80's with more territory-oriented players like Ishida Yoshio, Rin, and Cho Chikun using it. It has appeared less frequently in the 1990s.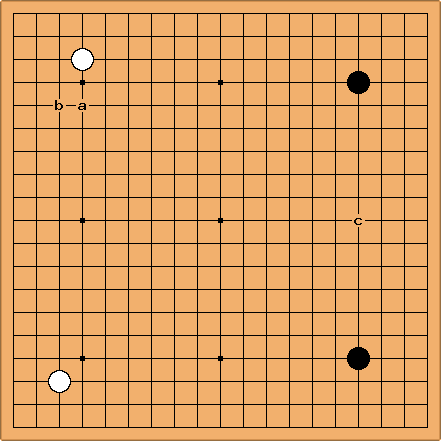 It has a better than average record with Black winning only 51% of the time. The most popular reply has always been the high approach move at a (appeared in 50 of 70 games). Remarkably, this is despite the fact that White has won more than 50% of the games with that continuation. The continued use of a by Black may be an indirect judgement of the quality of players that have used this line as White :-)
Statistics:
70 matches (70/0), B: 51.4%, W: 48.6%
Ba: 50 (50), B46.0% - W54.0%
Bb: 12 (12), B58.3% - W41.7%
Bc:  8  (8), B75.0% - W25.0%

BlueWyvern's variation attaching underneath with Black making the solid connection appears in six games. White won all six! Takagawa Kaku was the unlucky Black in four of the games.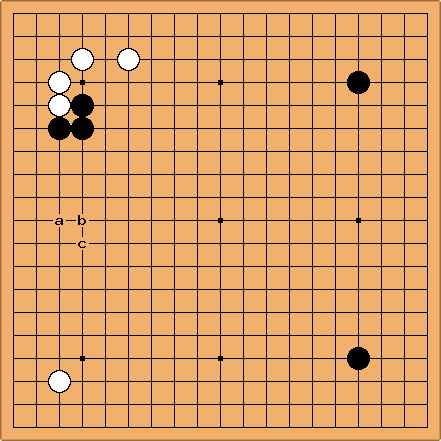 Statistics:
6 matches (6/0), B: 0.0%, W: 100.0%
Ba: 4 (4), B0.0% - W100.0%
Bb: 1 (1), B0.0% - W100.0%
Bc: 1 (1), B0.0% - W100.0%

Game list
1960-05-13:  Fujisawa Hideyuki - Takagawa Kaku (W) 10a
1961-07-05b: Fujisawa Hideyuki - Takagawa Kaku (W) 10a
1961-10-15b: Sakata Eio - Takagawa Kaku (W) 10a
1961-10-22:  Sakata Eio - Takagawa Kaku (W) 10a
1983-06-30c: Kobayashi Satoru - Otake Hideo (W) 10b
1984-03-25a: Honda Kunihisa - Takemiya Masaki (W) 10c

---