3-4 point high approach one-space low pincer attachment noseki
Starting sequence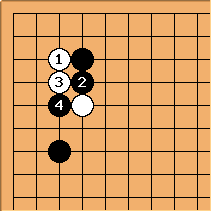 The combination of

and

is a bit of a trick play just short of joseki. A gobase search yields only 13 games. That's a big clue that it's not joseki, but a situational play. In all the games Black had something in the lower left corner or side. It might be a wall, an enclosure, a 4-4 stone, or an approach from the left side. In one case it was a pincer.


Tricked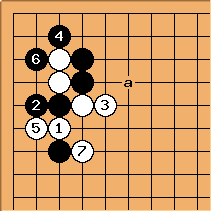 If White plays like this, her influence obtained towards the bottom will only work if she has some stones there herself. Black has sente and can use it to build at a.


Countertricked
This is correct for White. It is important to play the hane at the foot? of

before

and not to play

at a instead [1].
White's capture is one line higher and therefore much more powerful, also due to the extra forcing move at

.


[1]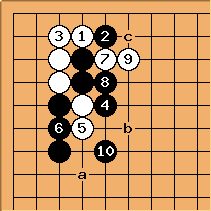 White has sente and two forcing moves. But White can do better.
What Ishida says
Ishida's joseki dictionary, volume 2, gives the following a one diamond (= acceptable joseki) rating: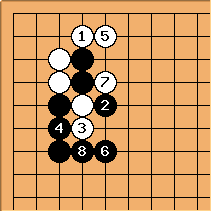 Variation (with fighting)
White can force with 1 and then secure the corner and an outside connection in sente with 3. Also seen is a pro game with

at a leading to a large scale fight.