yuzukitea / Beginner Study Section
Note: This is an attempted re-write of the Beginner Study Section Page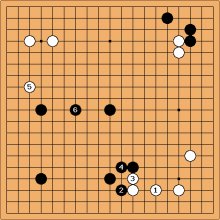 Go Seigen
vs
Honinbo Shusai
(1933)
The Beginner Study Section is a resource repository intended help novices teach themselves how to play Go.
Go is one of the most difficult board games in existence with a steep learning curve. It is an abstract game with simple rules and an incredible degree of freedom, but the journey of mastering it can involve years of deep study, perseverance, and dedication. Although the game is challenging, Go involves creativity and self-expression, and the endless possibilities are an open adventure for players to explore.
This guide is not intended to be authoritative, and it is primarily meant as a sign post to point beginners in the right direction.
---
First-Time Go Player
1. Introduction & Rules
For a first-time go player, there are many excellent online resources that provide an interactive introduction to the rules of Go:
For readers who prefer a more didactic introduction, Sensei's Library has a number of introductory pages:
2. Where can I play go?
Learning go is most enjoyable in person with two players that are at a similar skill level. Many areas of the world have a regional go association website that includes a directory of local go clubs. Attending a go club (virtually or in person) is an effective way to find teachers, mentors, and playing partners. (See: Go Places)
Online, Go is played on go servers. There are many go servers, but sometimes it can be difficult to find an evenly matched game.
3. Where should I place my stones?
---
9x9 Board Study Section
---
13x13 Board Study Section
---
First Steps on a 19x19 Board
---
High Double-Digit Kyu Study Section
---
Low Double-Digit Kyu Study Section
---
Next Steps