Tsumego From Games 68 / Attempts
LukeNine45: This is what I read out in my head, did I miss something?
---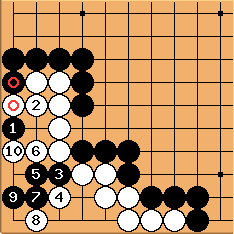 Dave: It seems to me that Black never quite has enough liberties...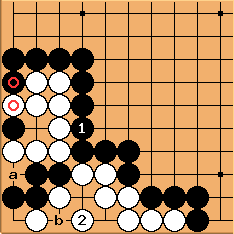 Dave:

makes the upper part seki (neither side can play a) but

makes two eyes so White can capture from the bottom at her leisure.
Bill: That's a false seki. :-)
Alex: Oops. So typical of me to overlook the most obvious move in the entire sequence. After and in the previous diagram (which was played in the actual game), I couldn't for the life of me figure out why my opponent didn't continue and play in this diagram to make "seki," because I just thought "if White at b, then Black at and it's still seki" and somehow didn't even think about making two eyes. Somehow, I even missed it while playing out variations on my own afterwards to test out the problem to make sure it was sound. Total blind spot, for some reason. I'd use the fact that I haven't been playing much the last six months as an excuse, but I've always had a nasty tendency to make such glaring oversights in games.
Fortunately, unkx80 seems to have discovered a better sequence for Black, so it remains a valid problem, I guess... I'll have to modify the hint, however, since Strange Things Happen at the One-Two Point doesn't apply.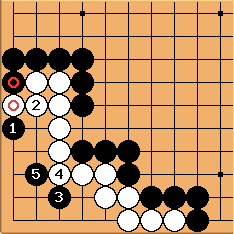 unkx80: Looks to me like Black can gain a ko or seki this way.
Bill: Looks that way to me, too.
See Don't peep at a cutting point. ;-)