Tsumego From Games 2
This one could also be classified under "How to kill your own stones ?"
In this lightning game White made an attempt to kill the corner, that was successful but should not have been.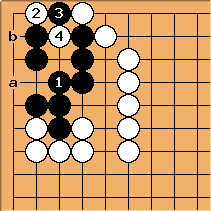 With

, White had envisioned the following sequence: Black takes two stones, and White recaptures at

, making miai of a and b, killing the corner. But he overlooked a black alternative.
If Black doesn't capture the two stones, he leaves them in shortage of liberties. Now he can play at

.

prevents Black making two eyes, and Black plays atari at

. White can't cover at a because of the existing shortage of liberties. In the failure diagram, which was also the game, Black himself resolves White's shortage of liberties, and thereby kills his own stones.
---
Incidentally, the same game featured another standard position.
---