Tsumego From Games 1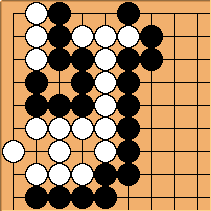 This position arose in a game I played recently. I played White. The columns to the right are simplified. The white group has barely secured life, but so has the black corner. This was truly a disaster for White because the outer black group influenced a great part of the board, and threatened a group of mine. To make things worse, Black had sente.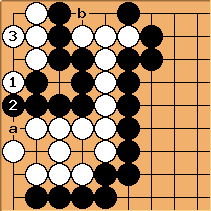 Black felt he was ahead and wanted to avoid complications. He read the corner as a ko with White 1 up to 3. Even if that were the case, it is a two-move approach ko : White has to ignore three ko threats in order to fill the liberties at a and b and finish the ko.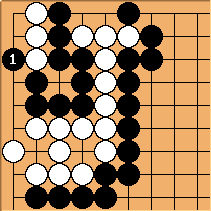 Black played 1 to finish the local fight with 100% certainty. I played a sente move and secured my other group, meanwhile starting to form a moyo and went on to win the game.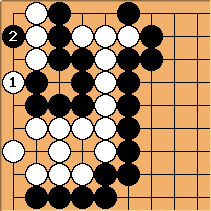 I was very happy with Black's reinforcing move, giving me the initiative: there is no ko. Against 1, Black plays an exquisite (well, to my standards) tesuji. Next ...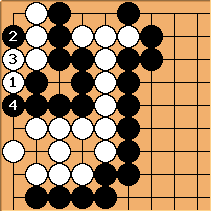 ... if White blocks, Black 4 is atari.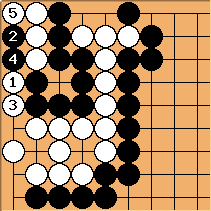 And if appearances are that White can connect underneath with 3, the reality is that 4 creates a snapback.
---
This example shows that misreading a local situation - even if it ends up in your favour - can cause your game to slow down.
--Dieter