Trick play example 5
This might have happened in one of my games on IGS. It did not happen because I made a sente move elsewhere, the opponent defended wrongly, his group died and he had to resign.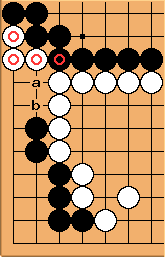 White played yose moves on the right and now Black comes with a counterattack with a marked stone. Defending at a is a natural move, it is as efficient as anything else but it looks tasteless. Defending at b is even worse. So I planned to play as in the next diagram.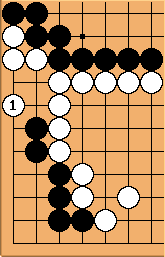 White 1 actually does not give more points than a at the previous diagram and leaves a ko-threat, but it sets a trap for the opponent. I wonder how many would buy it.
And now if Black takes three stones the corner dies. We know that already.
I think that since this position may happen in any game, everybody should learn how to kill the corner. The answer is in joseki-related life-and-death example 2.