Tower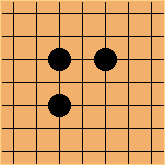 It is not entirely clear how common the term "tower" is used for this three-stone formation, but the term "tower peep" references this shape as the "tower".

The tower is commonly formed by a capping move which is a one-space jump from another one-space jump, like

in this diagram. It is often a technique to expand one's influence while applying pressure on the opponent.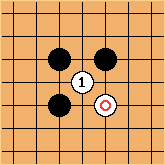 One perceived weakness of the tower is the tower peep, especially when the

stone is present. The tower peep is discussed extensively on its page.