StrangeThingsHappenAtTheOneTwoPoint/Problem 1 Attempts
kb: My attempts.
---
White cannot push in to make a false eye at the 1-1 point because of shortage of liberties.
---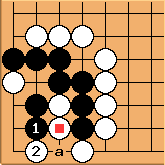 This

doesn't work. After

, Black can capture two stones by playing

at a, but White can then play

at

(capture two, recapture one), and there is no second eye.