Staircase ten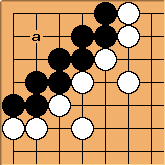 This is the staircase ten and is together with the bulky ten the biggest corner shapes that can be turned in a seki by the attacker.
The vital point for this shape is at a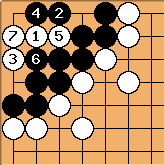 The importand idea is that after

,

and

are miai after that it becomes quickly a seki. Black can play

at

for a ko but black needs to make the first ko threat.
See Also:

http://www.lifein19x19.com/forum/viewtopic.php?f=15&t=1599&p=30452#p30452