Six Good And Six Bad Shapes/ Discussion
(sIG): Just one thing... in Pushing from behind is mentioned the "devastating bend". Why isn't it one of the "good shapes" since it is so grreat?
Bill: The bent, along with these two plays, were some of the first examples of good shape in the first shape book I read many years ago.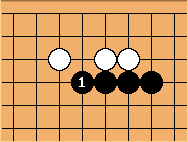 They seem at least as good as the good shapes mentioned on the parent page. Maybe they were considered too elementary.
---
eggsyntax? Could someone explain how counter-hane and double hane could both be good shapes, when counter-hane sets the opponent up to do double hane? I'm very confused by that. Thanks!