single-minded large avalanche
I was running Kombilo ver. 2.0 to check what it returns for the search that Ulrich used on Kombilo/Export Search Results in order to see whether I understood the proposal for version 3. I input the large avalanche pattern shown on that page and clicked the pattern search button. I was upset when it ran through and returned only one game - where were the other 461!? Then I realized that I had carelessly forgotten to select a limited section of the board around the pattern before starting the search so Kombilo had searched the whole-board pattern. But wait a minute, where did the one game come from!!!? Here is the beginning of the game in question. I thought of calling it "two one-track minds meet" but that might be a bit tricky as an SL page name. DaveSigaty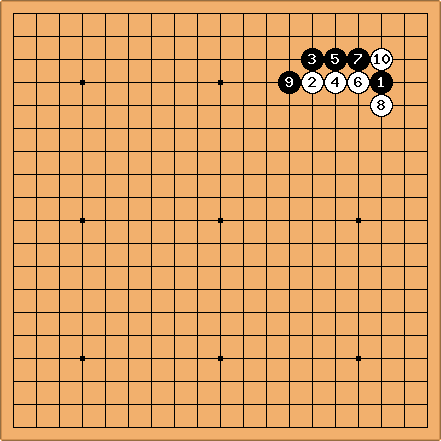 Takenaka Kotaro 1p (White) versus Matsubayashi Yoshihiko 1p in the Spring Oteai April 1934. The result - Black wins by resignation.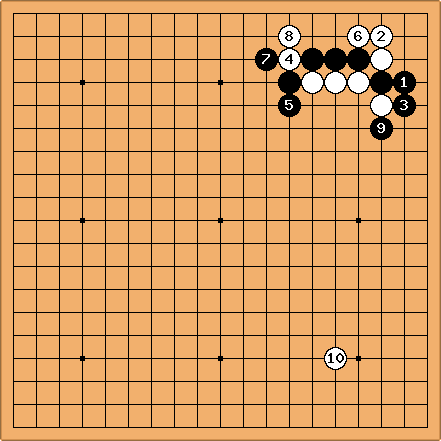 White finally left the upper right with 20 and the players proceeded to divide up the rest of the board in a more normal fashion. I am fairly confident that this game does not appear too frequently in fuseki dictionaries!
Anonymous: Or rather, the players continue to do the same thing on each corner. See NoFuseki for the continuation, likely these two pages should be combined somehow.
Phelan: NoFuseki is an alias for Joban. I don't see the continuation there... The position seems different at least.
Anonymous : There is a similar opening in 2014 Gu Li vs Ke Jie, which results in black Ke Jia win.