Semi Eyes Win Semeais
The following position was posted on Byorgey / GoBlog
---
I guess this is a seki, no matter whose move it is. But this position started me thinking about eyes in the corner (I really do mean the corner, that is, the 1-1 point).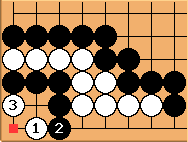 White has a "pseudo eye" or "weak eye" in the corner. I call this a "semi eye", yielding the proverb: "Semi Eyes Win Semeais." ilan
MrTenuki: You could also say that sets up a temporary seki.
Bill: You can also call - an eye. :)