The Art Of Connecting Stones/Solutions
ilan:
Here is the main variation in the solution to Example 17 on Page 25 of Art Of Connecting Stones.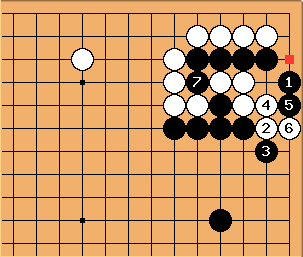 As I mentioned in my review, the book is well-written, and it calls

"a conservative move." If

prevents Black from connecting, then

cuts and wins the semeai. Note the application of the proverb Semi Eyes Win Semeais.
---
Here is the solution to Example 15 on Page 21 of Art Of Connecting Stones.
---
What, the solution is the infamous Empty Triangle? What kind of a go book is this, if it presents problems whose solution makes Bad Shape? Well, I don't "do" empty triangles, so I found another solution.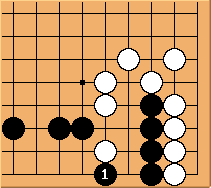 This solution is much more consistent, especially since the relevant chapter of the book is named "Connecting at the Edge of the Board."
---
Here are the variations I found