selecting candidates
One of the aspects in the playing process is the selection of candidates to evaluate.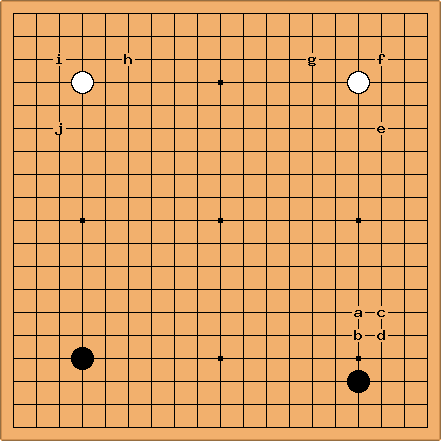 Black to play. Depending on Black's strength, intuition and preferences, the candidates may be as many or few as these 10. A professional player may consider fewer. Leela Zero in this position evaluates all these moves, except d and h.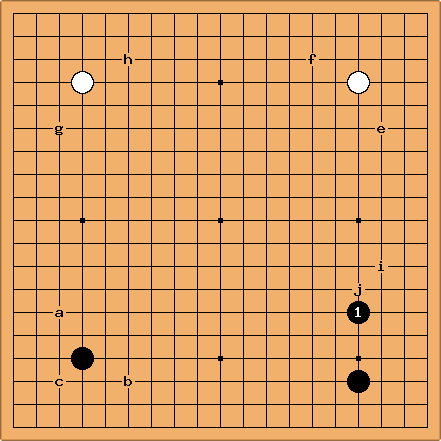 These are the first 10 candidates evaluated by Leela Zero after

. Traditionally, human players have been evaluating the approaches at a and b, or a wedge at the bottom. The latter has gone out of fashion.
In the middle game, there are usually a few or even a single hot positions, so that the candidates are reduced to plays that locally deal with the situation.
In the endgame, there are again multiple candidates to evaluate in different areas of the board.
Techniques for selecting candidates
Candidate selection is an intuitive aspect of the game, or network bias in AI terms. We don't evaluate all empty points. With knowledge of basic technique and strategy, the number of candidates is reduced to a few.
Certain techniques can help finding more or better candidates:
the enemy's key point is yours: when you find that the opponent's response to any of your moves is often the same move, then that becomes a good candidate to evaluate for yourself
one two three principle: when you visualize a sequence, e.g. as Black, --, where is a good move after the - exchange, it's a good idea to evaluate what happens if you play right away
tenuki is always an option: when none of the moves you have evaluated in a certain area or position give a satisfactory result, then you may consider playing elsewhere