Seki with eyes question 4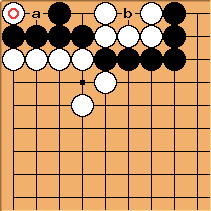 If you play using Japanese counting, as is usual in Europe and Japan, this is a position to watch out for. The Japanese rules say that there are no points counted in a seki, so Black cannot count 3 points for a and

. Instead, after the game is over, during or after the filling of the dame, Black should capture at a before passing, and that way get at least one point out of the situation. This is also of importance in the position of the third diagram: The points a and b are not territory points in Japanese counting, but they are in Chinese counting (for example in a game using Ing rules).
---
Discussion:
JvL: Under Japanese rules, the marked stone is a prisoner. Black doesn't have to play a. If a stone can be captured unconditionally, there's no need to do so (normally it would be playing in your own territory, costing points). Of course in a situation like this, it can be done, as a stone at a will not reduce the territory, as seki points are not counted.
Bill: Under the Japanese '89 rules, not all dead stones are removed at the end of the game. They are only removed from territory, and there is no territory in seki. Technically, the only way that Black can get credit for the marked stone is to capture it during play (probably the last play before passing).