Seki with eyes question 5
Another interesting seki with eyes: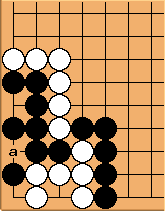 The lower left corner of the board is a seki. Black can play at the dame point (corner), but the resulting four-move cycle costs Black a stone under territory rules, so Black cannot loop indefinitely as in Eternal Life. This position may be a problem with poorly formulated area rules (i.e. without some sort of superko).
KarlKnechtel: Wouldn't that be a three-move cycle? Anyway, on the internet Go servers, since the servers don't remove dead stones they certainly don't know about any concept like seki. Therefore, to get a fair result with Japanese rules, it would seem that black has to fill at 'a' at the end so that the server will count it properly. Then again, one could argue that one plays "server rules" and not Japanese rules when on the Internet, imperfect as they may be.
---