Seki Example 1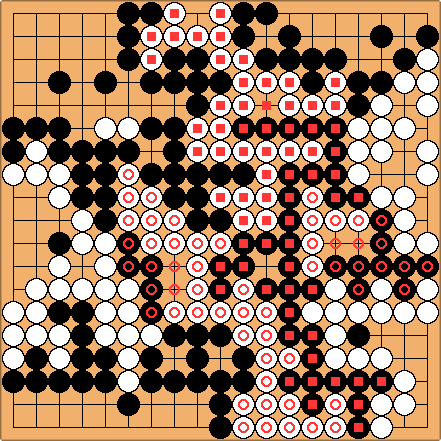 From a high dan game at KGS. --Dieter
Woah! o_o That's awesome! Dieter, do you by any chance happen to remember which two players the game was against? I'd really like to download this game and see how this happened! --Hikaru79
Karl Knechtel: I'd consider this to be two linked seki, really, for the reason that a fill inside by one player does not suicide all of that player's strings in question. But maybe I'm just weird :)
Robert Pauli: Three seki(s).
Tas: No, not by Karl's conditions. Since suicide of any of the white circled groups will cause the black squared to live, killing the white squared.
HandOfPaper: Has anyone tried handling seki like this in terms of directed graphs? One could try something like defining the vertices of the graph to be chains in the seki and defining that there is an edge going from X to Y if the suicide of X brings Y to life 'immediately', or if X coming to life enables Y to die, or something else. One notable thing about this seki is that the suicide of the large black one-eyed chain would make B lose everything in the seki and W win everything in the seki. How does this affect the counting?
MarkusKoivisto?: It doesn't affect counting.
tderz: What were the last 2 moves? (+ same request as Hikaru79)
cynewulf: Kombilo reveals that this is

http://files.gokgs.com/games/2003/3/20/lesio-MIYAUSIRO.sgf .