Seki collapse
Seki collapse means the destruction or collapse of a temporary seki. It refers to situations in which stones apparently alive in seki are killed or captured later in the game.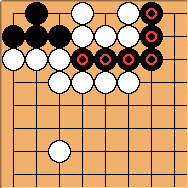 The four black stones in the corner appear to be alive in seki. If the

stones later die, the apparent seki collapses -- five white stones become alive, automatically killing the black corner. This change is called a seki collapse.


A seki with very asymmetrical stonecount can sometimes be used as losing ko threat by the player with the fewer stones in the seki. Since such a threat entails a loss, this makes sense only if the ko is really big. The opponent then may respond and capture the attacker`s part of the seki or take the ko and be captured. Either way, the seki is subject to a forced collapse.
---
Also see False Seki.